Filter by Category
Enid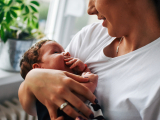 Registration Unavailable
Understanding Birth
with Tiffany Reinschmiedt
Understanding Birth will educate and prepare participants for the following information:
Understanding Pregnancy: 3rd trimester discomforts & overview, anatomy, emotions, preeclampsia, preterm labor, and more.
Understanding Labor: The 5 P's of labor, signs labor is near, onset of labor, stages of labor.
Understanding Brandy's Birth: A real life scenario to show how the stages of labor unfold.
Understanding Comfort Techniques: Birth preferences, labor support, breathing, hydrotherapy, massage, labor & pushing positions, back labor, relaxation & visualization techniques.
Understanding Medical Procedures: Decision-making, the difference between induction and augmentation, fetal monitoring, IVs, analgesics, epidural anesthesia, local anesthesia, spinal blocks and second-stage interventions.
Understanding Cesarean Birth: Scheduled, unplanned & emergency cesareans, reasons for having a cesarean, common preparation for surgery, risks, anesthesia, recovery, and reducing the risk for a cesarean birth.
Understanding Newborns: Newborn procedures, appearance, senses, SIDS, and choosing your Baby's Healthcare Provider.
Understanding Postpartum: Physical changes, emotions, lifestyle changes, and breastfeeding basics.
Each woman will receive a reference book that includes a free companion web app with more than 50 videos, tools, and printable checklists.
Tours of the unit will be given following the class.
For any further questions about your class please contact Tiffany Reinschmiedt at 580-548-1347